HIPER – Hollow Impressed Precast Energy Reusable Pile – is being trialled by main contractor Mace Dragados on the HS2 Euston station site in London.
As part of the site office's foundations, the hollow steel tube piles are sunk up to 25 metres into the ground and filled with water, before pipes carrying cold flowing water to and from the building above are run through each pile cylinder. As the ground's heat warms the standing water in the cylinders, heat is transferred to the pipes and carried to the surface to supply the building's heating system and hot water.  
The system can be reversed in the summer to cool the building by transferring heat back into the ground.
Keltbray estimates that its geothermal technology will harness enough energy to supply 80% of the site office's heating and hot water.
Keltbray Technical Manager, Asha Panchal said: "The innovation combines a number of novel technological breakthroughs to deliver the first major change in the piling industry for over 70 years. HIPER Piles use zero-cement concrete, halving embedded carbon emissions compared with a traditional methods.  The fact that HIPER piles are hollow also means that they are 60% more thermally conductive so they can harness the earth's natural zero-carbon thermal energy more efficiently than conventional solid thermal piles."  
Keltbray secured backing from UK Research & Innovation (UKRI) in 2019 and more recently from HS2's Innovation Programme. The system is being considered for use in the design of the main stations themselves at Euston and at Curzon Street in Birmingham.
HS2 Ltd innovation manager Heather Donald said: "The potential benefits of this innovation are obvious. By harnessing ground heat this technology has the potential to provide both heating, cooling and hot water to HS2 stations – increasing sustainability by reducing their carbon footprint and running costs."
Mace Dragados programme director Ben Wheeldon said: "One of our ambitions at HS2 Euston station is to be recognised as a leading project by the public, the industry and our neighbours, and so it's incredibly exciting for us to have the opportunity to trial this innovative piling technology. It has the clear potential to reduce the use of materials, streamline the piling process, reduce costs and significantly shrink our carbon footprint."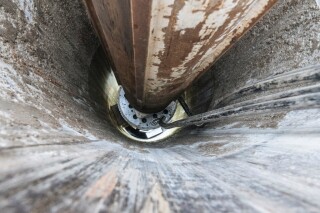 Got a story? Email news@theconstructionindex.co.uk