Cathal O'Rourke, son of chief executive and majority owner Ray O'Rourke, will take over as chief operating officer of Laing O'Rourke on 1st April.
He will also become the latest in a long line of people considered to be the company's chief-in-waiting.
The COO role has been newly created for him to assist the group share learning and best practice across the company's international operations.
In January 2022 Laing O'Rourke appointed Seamus French, an executive with mining company Anglo-American, as CEO-designate. But inOctober Ray O'Rourke said that he was not going to hand over his business to French after all and would himself remain CEO for at least another two financial years, taking him until April 2024, by which time he will be 77 years old.
The appointment of Seamus French was seen as a precursor to a stock market flotation. His departure was seen as a deferral (at the very least) of any such plans.
Cathal O'Rourke has not been widely seen as the obvious heir apparent within the organisation, not least, it is said, because he was settled in Australia. However, he stepped down as managing director of the Australian business last year to take parental leave, after eight and a half years leading the hub and as a member of the group executive.
In a statement today, Laing O'Rourke credited  Cathal O'Rourke with transitioning the business from a largely oil and gas resources focus to securing a broad pipeline of public infrastructure and defence work. He was president of the Australian Constructors' Association (ACA) and has been seen as instrumental in industry moves to more collaborative contracting, including early engagement models and performance incentives.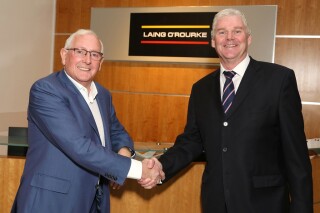 Cathal O'Rourke said: "I am excited to be returning to work from our Europe Hub where it all started for me as a young engineer.
"I got the opportunity to go to Australia 13 years ago, thinking I would only be away for a short time. I'm keen to reconnect with those I know from back then, while getting to know the great people who've joined since.
"I'm looking forward to driving our unique culture – by putting our people and their diverse experiences at the heart of our offering to clients – enabled by our advanced technical capability.
"My partner and I will be returning to the UK with our nine-month-old daughter. This new group leadership role, and being closer to family, makes it an exciting time both professionally and personally."
Laing O'Rourke Group chair Sir John Parker said: "I am delighted that Cathal will take up the new position of group chief operating officer. He will work alongside his father Ray, as well as Des O'Rourke and the group and hub executive committees, to focus on performance and culture as we enter the next stage of our Deliver 2025 strategic plan."
Got a story? Email [email protected]